Three Steps No Excuses Day 2
Be willing to make a mistake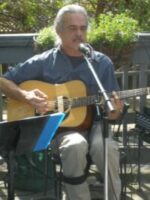 Do Three Things everyday that support you in building your business
STEP 1 for today

Plus 1 Success book Day 2
There have been many times that I have been afraid to do something new because I thought I might make a mistake.
And I am somewhat of a perfectionist so it can make things a little more challenging.
What I have come to know is that I learn through making mistakes.
One of my first realization of this was when I started to learn to play the guitar. In the beginning I really sucked and made a ton of mistakes but gradually became better day by day. I learned a bunch of songs and improved my skills then I started writing my own songs. I have been a songwriter now for 45 years and have my own Band and consider myself a pretty descent guitar player.
If I wasn't willing to make mistakes I would have never learned to play.
I have to admit that I had a passion for it . There are other things like writing emails or this blog for instance that I am still afraid of making mistakes on because I might not write the correct words.
Be willing to make a mistake
STEP 2 for today
My second step today is about learning something new.
I go to Click Track Profit to learn new things and get ideas most every day.

When you sign in to the dash board you will see the 3 Steps to Success down in the left hand corner
You can go there every day and choose new ideas that are on the list
The main point is to do 3 three things daily
If you can be consistent you can make big changes in a short time
STEP 3 of the day
Join a community
The first time I went through the 3 Steps no excuses 30 day challenge I relied a lot on the CTPtalk.com community
You can learn more about them at Click Track Profit
I modeled my steps after them and I have to say they are brilliant.
This community is definitely one of the best I have ever joined.
A strong group of people backing you up is something that is priceless.
Come and join the CTP Chat at Telegram and get the support and guidance you need

Remember mistakes are ok . They are your teacher